Klein Kromhof Extreme Volume Bedding
The extreme volume line products of Klein Kromhof are absolutely one of a kind! A unique product in the industry especially when it comes to equestrian bedding. If you want the best for your horse, Klein Kromhof Extreme Volume Woodshavings is absolutely key!
Vets often inform horse owners that they should prevent for dust in their stables as much as possible. This helps to prevent irritation for both horse and human. All Klein Kromhof woodshavings are dust and bacteria free!
Used in the world-wide equestrian industry
We run the entire production process in-house, from beginning to end
Elastic bedding prevents strain on joints
Sky high shock absorption rate
Extreme volume shaving, resulting in superior efficiency
Dust and bacteria free
Beneficial for both human and horse
Klein Kromhof's extreme volume line of products are absolutely one of a kind!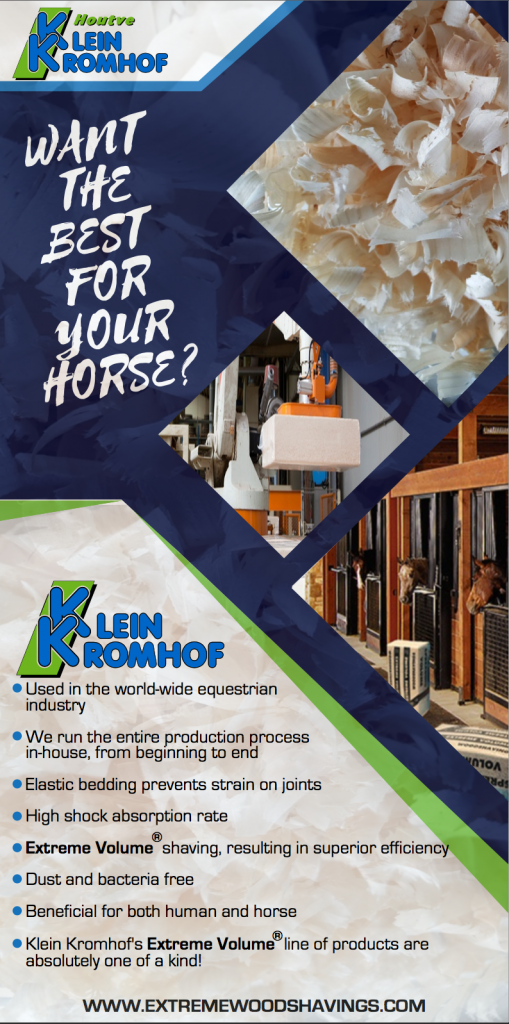 If you want the best for your horse, Klein Kromhof Extreme Volume Woodshavings are the solution!
Minimizing your horse's overall health risk!
Dust Free
Due to the fact that Extreme Volume Woodshavings® are dust free, they will not impair or seriously damage your horse's respiratory system.
Bacteria Free
Hygiene is a critical aspect for your horse. Extreme Volume Woodshavings® are made from virgin pine wood and dried at 90 degrees Celsius during production.
Less strain on joints


Our shavings encourage your horse to lie down and rest! Horses must be able to lie down while they sleep. Our shavings create a natural and clean bed allowing for this.

Ammonia


Poor bedding and bedding management

exposes

horses to greater contact with ammonia causing respiratory problems and attacking the overall hoof structure.

Hoofcare
The large flakes in the Extreme Volume Woodshavings® prevent your horse's hooves from drying out and cracking.
 Once your horse has tried our product, he/she won't want to leave it!